Hymn of the Festival Project "Constellation"
Music: Yu. Derskiy
Words: A. Brushchenko
Full version Download

Instrumental version Download

Words of the Hymn
The first verse
If you look to midnight sky
Very easy it, to try!
You can see a Milky Way
With a million stars.
If you have two wings of dream,
May to fly on magic stream,
Magic stream from smiles and songs
In the peace and flowers.
Refrain
But the Earth — it is our home!
We together with you along.
Under Gold constellation
We are building sensation,
We are just happy nation,
We together as one!
We will be celebration
Under Gold constellation,
Our great inspiration,
Striving, fantasy, flight!
Второй куплет
Мы с тобой хотим понять,
Как мечту завоевать,
Как удачу удержать –
И верить в чудеса.
Жизнь всегда идёт вперёд,
Что она нам принесёт?
Радость встречи, новый взлёт
Просто нужно знать,
Что Земля – это наш дом,
Чтобы лучше жилось в нём…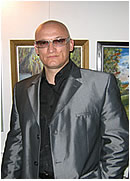 Yu. Derskiy
SECRETARY OF INTERNATIONAL ASSOCIATION OF WORKERS OF POP ART, PRIZE-WINNER OF INTERNATIONAL CONTESTS, COMPOSER, PROFESSOR, HONOURED ART WORKER OF UKRAINE
A. Brushchenko
PRESENTER OF THE MUSICAL SHOW AT RADIOCHANNEL 'PROMIN', POETESS